Liziwe is one of our incredible SewBosses who ventured out last year to start her own business, Lizz Accessories. Covid threw her intense challenges in her first year of business, but she adapted quickly and is thriving. She is one of over 150 independent sewing businesses that make up Sparrow Society's SewBoss network.
When Covid forced everyone into lockdown and manufacturing jobs were hit pretty hard, Sparrow Society saw an opportunity to create a safer option for women to work from home – keeping them safe from exposure to the virus while being able to care for their children and families. We aren't a factory- but rather a network of over 100 small businesses – SewBosses -(independent seamstresses sewing from home) and working together on global contracts.
Kolisi Foundation & Roche Pharma
A story of hope and impact in the middle of the Covid 19 pandemic in South Africa. Roche & the Kolisi Foundation have come together with Sparrow Society to empower women across Cape Town to make 66,000 face masks for free distribution to vulnerable communities across South Africa. This partnership empowered over 70 women with dignifying and viable jobs that they could do from the safety of their homes. An incredible story of what can happen when we work together in times of crisis.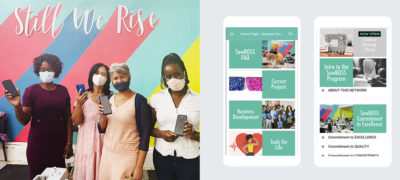 Sparrow Society has created an innovative training and business support...
Read More